When my husband asked me what I wanted for Mother's Day this year, I told him I really wanted a raised bed garden. Last year, we just tilled in a mix of topsoil and compost that we had delivered and planted right into the ground. We did get big, beautiful plants and harvested a large amount of cantaloupes, melons, and cucumbers; however, our in-ground garden presented a few problems. First, there is not one single spot on our property that is level. Even after several once-overs with the tractor, our garden plot still has a slight slant to it. By the end of the summer, rains had washed a several-inch layer of dirt into the areas between my rows and the weeds soon took over. Weeds were a constant battle and I threw in the towel by early fall.
So my husband and teenage son labored in the hot sun for several hours to build me a modest 4x8 raised bed. I won't get the harvest that I did last year, but this has definitely been a year of downsizing. Our first year on the farm, we did too much too fast and the stress soon followed. I'll be happy with a few late summer tomatoes and peppers without all of the weeding and labor.
On a funny note, when I asked my husband if we should do anything special for him for Father's Day, he suggested it should involve me laboring in the hot sun for most of the day like he had to for my Mother's Day gift! Needless to say, I just made him a special dinner and dessert. Also, somebody left the gate open and the goats got out earlier this week. My pepper plants are now little leafless nubs, but the tomatoes are intact.
Speaking of the goats, our babies are getting so big. We started raising Boer goats so we could use them for butcher, but I have to confess that I'm emotionally attached. I haven't had that problem with our hogs, but these girls are my sweeties. If we remain on the farm (which is up in the air right now), I may have to switch to dairy goats. At least they also keep the brush down so I can justify their keep for now. The fact that we still have beef in the freezer from a friend's cow doesn't hurt either. I can put off having to make a decision about whether my girls are pets or livestock for the time being.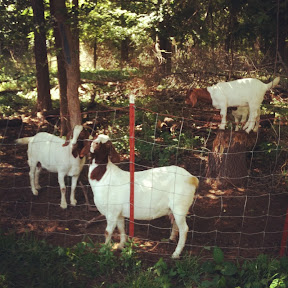 - Posted using BlogPress from my iPhone