So, now that I am actually able to post after a mysterious technological problem with blogger, here are the 3 babies born on the farm in late February. Unfortunately, the little boy goat died,but we have 2 happy, healthy girls running through the woods with their mamas. Hopefully, I can post what I learned about goat birthin' very soon and save someone out there an unnecessary trip to the vet!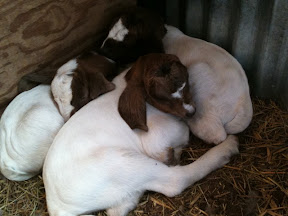 Here are the 2 girls about a month ago.
AND my new batch of hens are finally laying. Here are some blue Araucana eggs, brown Rhode Island Red eggs, and 2 white eggs from our Leghorns, who laid faithfully for us all winter. I guess there's something to be said for hens bred for commercial production!